*Lots of games to cover and moving faster than editors can keep up with, so forgive any typos, etc. 2,000+ word articles on preseason games ain't easy. Going for quantity over quality to get the news out ASAP.
Of the seven games last night, I thought this was the 7th most interesting…and likely the last one I'd write up this cycle/week. Suddenly, it's my #2 recap of the day.
Why?
I'm in a Twitter war with DeVante Parker.
I know…right.
I took a clip of a Parker play from last night's game and posted it on Twitter with the title "Why I don't believe in DeVante Parker." I did so to have it easily available to show you when I did get to my game recap — to show what I'll be commenting on with him.
What I did not take into account is DeVante Parker weighing in. I also did not factor hundreds of Miami and Louisville fanboys grabbing their Twitter torches and pitchforks and distracting me late last night while I tried to watch this week's new Impractical Jokers episode before bed. I felt like I was on the show…Joe…Q…Murr…Sal – did one of you put Mr. Parker up to this? Is this my punishment for losing this week's episode?
There may be some people from the 'burn the witch' follies on Twitter from last night waiting for my response or explanation – and reading this, the only time they'll ever read anything I'll have written. Welcome. I'll get into all the gory details on this Twitter thing because I think you're going to like it…but it will be the last thing I address here. First, let me clear the other non-Parker notes – but the Parker note at the end is critical for dynasty-fantasy…and if you're a Dolphins' fan.
Game notes…
This was a really dull preseason game. Atlanta ran the starters for a series as did Miami. Before you knew it, Matt Schaub was battling Brandon Doughty…and it got worse from there for the most part. There were some interesting 3rd-string(fellow) and rookie performances to comment on among the rubble…
I also have to note – this was my best bet of the preseason games last night, and I finally won one for 2017. Mostly, I got burned on general picks last night all in the final two minutes of games it seemed. Notes in no particular order, but kinda…
— Where the heck did Damore'ea Stringfellow (2-116-1/3) come from last night? Wow. He did not look like the 4.6+ runner from his Pro Day and college tape. Stringfellow caught a 99-yard TD pass in this one – he caught the pass about 30-40 yards downfield and then just weaved and hit the accelerator and left the DB in the dust. Whoever the DB was, he either runs a 4.8+ 40-time or Stringfellow has better game speed than analytics/measurables type speed scores told us. He also had a nice 30+ yard grab called back on a penalty not-having to do with anything on the pass.
I'm not on the Stringfellow train but I'm forced to go back and look at my scouting notes and do a quality control check if this keeps up.
— I liked the glimpses of Atlanta rookie WR/KR Reggie Davis (2-43-0-3). I had written him off as too small and too inconsequential (2 TDs at Georgia in his 4-year career), but he really showed NFL speed/burst in this contest – a 4.36 runner with 6.94 three-cone…the 4 bench reps is a little concerning. Likely a return man at best and #5-6 WR someday. Something to keep a quarter of an eye on.
— Don't lose track of 2nd year TE Thomas Duarte (3-19-0/4) – a 'Jordan Reed light' hopeful. A successful college WR/TE. He looked pretty decent mimicking Reed-like plays in this game. I wonder if this is how Miami is planning to use him after not using him as a rookie?
— I watched several plays back isolating on IDP rookies Duke Riley (5 tackles) and Cordrea Tankersley (6 tackles). I didn't see anything very exciting. Riley was playing some ILB…a college OLB prospect.
— Atlanta 2nd-year Safety Sharrod Neasman (1 tackle) made the tackle on the DeVante Parker play of note about to be discussed…it was an eye-catching play because of how swiftly he wiped out Parker. Neasman is scrapping his way into a real role for Atlanta it seems.
— David Fales (8-17 for 184 yards, 2 TD/1 INT) was leading the team on another scoring drive late when he threw a wobbly pass up for grabs to CFM fave Mitch Mathews (1 target) in the end zone. The wounded duck was picked off. Had that pass gone incomplete, Fales may have eventually punctuated another drive with his 3rd passing TD and got a little more noticed – instead he wiped out all his solid play with one bad throw. Sad.
OK, DeVante Parker…
— So, I'm watching the game last night and on the very first series the Dolphins have a 3rd and 8 in their own territory. The Dolphins call for a DeVante Parker designed bubble screen. Parker gains half the yards needed and doesn't convert. A pretty innocuous play in a meaningless game, right? I didn't see it that way.
It's rare that the Dolphins throw to Parker short like that. He's more a medium, deep threat because that's where he has made some nice NFL plays using his size and leaping ability. He struggles in congestion. But they made the purposed play call – I think they did so as a test for Parker, and to me he failed that test.
Let's look at the play… And you're going to have to invest in watching it more than once.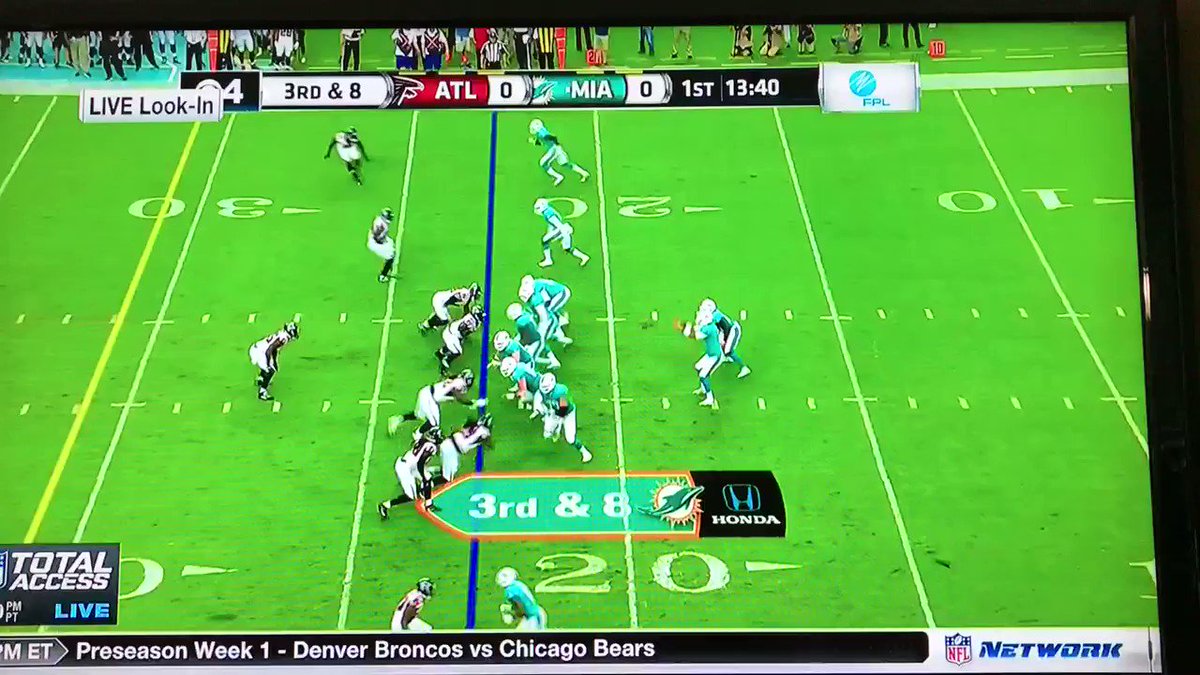 R.C. Fischer@FFMetrics
Why I'm not a DeVante Parker believer.
5:19 PM - Aug 10, 2017 4242 Replies 55 Retweets 3434 likesTwitter Ads info and privacy
Most people looked at that play and replied, "What did you expect him to do?" In a flash, the play appears bottled up and Parker tries to find an escape and doesn't. Let me tell you what I saw in this meaningless preseason play where the coaches purposefully threw a pass to Parker they never do normally…
First, we have to get up to speed on where we are at in the DeVante Parker NFL story. I'm not sure what people are so cavalierly defending with Parker…
— Parker is a #14 overall pick in 2015 who has not lived up to his draft status. It's inarguable.
— In 2015, Parker is banged up but also called out publicly for toughness and lack of effort by Joe Philbin. Philbin was replaced five games into the season by no-nonsense Dan Campbell who essentially benched Parker for the same issue the second he took over. Campbell would be forced by management to get Parker onto the field the final six games of the season.
— In 2016, a new coaching staff arrives…and a new group murmuring about Parker's heart and effort in the preseason. Parker debuts Week 2 of the regular season and has his best game of the year – 8 catches for 106 yards. He has 1-3 catches in a game in nine of his final 14 games last season. For the second year in a row, Parker is a disappointment compared to the hype – a couple slick moments but nothing sustainable. He looks tougher and better as the season goes on, but gets nicked up again and hurts the team with his absence for the playoff stretch.
Two seasons into his career and mostly disappointing, leaving coaches and fans wanting. Agree?
— I was a fan after scouting Parker at Louisville – athletic and good hands. I thought he'd make a fine pro. As soon as I saw him work in the NFL, I knew something was wrong. I documented several plays the last two years showing Parker's lack of aggression and 'wanting it'. He's athletic and has good hands. He also plays timid and worries too much about contact – and is a terrible receiver when physicality is needed.
I really question Parker's heart for the game. I know he can hang because of his size, speed, and leaping skills with good hands but I fear he loses most of his edge when things get physical…that he'll never be a true #1 WR mindset and producer.
I'm open to Parker toughening up, but those things tend not to change in humans.
And then I see this preseason play…
Parker gets the bubble screen and has several blockers and defenders between him and the first down mark. I would argue that if Parker keeps going straight ahead after the catch with the advantage of the blockers, he's going to barrel into the mass of humanity and momentum his way to a first down, and maybe more. I think that's what coaches are aching to see from Parker – even in a preseason game. Some toughness and energy. Thus, this play got teed up for him to shine.
But instead of going into that dark maze, Parker does the most DeVante Parker thing he could do…he tries to hightail it to the sidelines. His whole mindset, to me, in his time in the NFL, is to avoid contact and flee to safety. That's fine…but don't tell me what a 'baller' or 'beast' he is. Don't tell me he's the star of camp or a future superstar. He is what he is – the most athletic WR on the team, and about the 3rd most effective. All the sweet leaping catch GIFs you find on Parker prove my point – he wants to catch jump balls away from trouble. He doesn't want anything to do with 'tough plays'. He's a great leap for the ball WR…only there are just a few of those plays a year for him…it's the other 98% of his plays I'm thinking about.
But it's even worse…
When you re-watch that play, do you notice that as soon as Parker makes a cut to the sidelines, how much he slows as a runner and an undrafted free agent who runs a 4.7+ 40-time comes in and wipes Parker out like he's standing still?
This is your star?
A guy who hates physical play, is slow east-west, has been called out by three separate head coaches in two seasons about his effort and hustle, who has been mediocre (statistically)…this is the guy everyone is so sure that he's a star that I'm called every name in the book on Twitter by his 'fans'?
Wait, there's more…all this started with DeVante Parker re-tweeting my tweet and replied, 'Don't gotta be a believer'. That tweet began the Mensa parade of other tweeters. I did not respond to the Tweet, I just favorited and re-tweeted all the nastier ones and laughed.
Why would DeVante Parker tweet at me? I did not mark it for him or aim it at him to get a rise. He's allowed to respond, no doubt…but why take time to respond to me – a nobody talking about one preseason play without any real description? Break it down – DeVante Parker is searching himself on Twitter (I assume) and finds this and decides to respond. Why? To what end? No one agrees with me on Parker and he has a fanbase that believes anything. He shouldn't even be bothered with it.
But he was.
And doesn't that tell us even more about what's kicking around in Parker's mind? They call it 'rabbit ears' when discussing the same about quarterbacks. They can't handle the criticism and are always wary of it…and Parker maybe so much so he's going out and looking for criticism and responding to it. If a real name in football hit him with a negative tweet…maybe he'd have to weigh a response. He shouldn't even have time for me. He has nothing to win and everything to lose. But he still took the time to do so…because it bothered him. I'm guessing he knows exactly why I clipped that play and why it was criticism worthy…and was sensitive to it.
I think Parker can be a good NFL wide receiver. I think he could be better than he has been, but I fear he's too mentally soft and not that into football…and have stated that case for two years with examples. And then he replies to a silly critical tweet from me…I'm not worth it. This whole episode doesn't make me feel like I've been wrong about his mindset for the past 2+ years.
I need to scout everything as an NFL Draft and Pro scout. I crave inputs, 'tells' with which to make decisions on players – I just can't like them all and/or call them all sleepers. I need to make hard decisions for a profit – and I think I just got a good piece of scouting data from Parker without him realizing it.