2017 Dynasty Rookie Draft Rankings (pre-NFL Draft)
This is going to be an evolving dynasty rookie draft (+IDP) ranking as we head towards the 2017 NFL Draft. I have not had a chance to study every top player in depth as of mid-March, so I'm working from players I have studied fully or briefly, plus time studying them at the Senior Bowl and NFL Combine. Starting Tuesday, March 14, 2017, I will add a player or two + commentary per day throughout March and adjust up/down any prospects as needed throughout April until the draft.
After the NFL Draft, the following week, we will publish the official 1.0 dynasty rookie draft rankings post-draft…the first version of 15–20 we do up until the regular season begins.
1) RB Leonard Fournette, LSU
I'm seeing this as a repeat of Ezekiel Elliott, only with a bigger, badder running back. Great runner of the ball and plays all three downs. Is not great in the passing game, but plausible enough. Elliott was a letdown in PPR, to a degree, and so too Fournette. He's going to be drafted on purpose to be a franchise, feature back. The safest play of any dynasty rookie for 2017.
Valuation level? Not as good as David Johnson. Would rather have him than Ezekiel Elliott, because I fear an Elliott implosion and I think Fournette is far more talented. In PPR, I'd rather have Todd Gurley if I could get over the Rams O-Line issues from a year ago. Gurley-Fournette is a pick 'em. Gurley more talented all-around. Fournette the TD maker.
2) TE O.J. Howard, Alabama (+2 spots)
4/16/17 update: Studying more Alabama tape for the O-Line, Howard just jumps off the tape as a receiver and runner after the catch. He's one of the most gifted athletes at TE we've all seen in a while. He can do it all. Great Tight Ends are hard to come by in rookie drafts, and Howard is a big opportunity.
———————–
Original Comments: He's going to be taken top 10–15 in this draft and with the full expectation that he starts on day one. He has it all – size, length, hands, elite athleticism. We've only seen glimpses of him as a top-flight receiver because he was kept in to block so often. When cut loose, like in NCAA title games, Howard exploded in some games.
I really hoped he would go to Green Bay, but the Packers have been stacking TEs in free agency. My prayer is now #11 to New Orleans. About anywhere else from #4 to #14 is a disaster (given the teams picking there today). I hope Dallas, the Giants, or Raiders make a move after him if the Saints don't get him.
I know tight ends tend to start slow in rookie seasons, but high-end tight end prospects were few and far between before too…now, there's a surge of them. The game is changing at tight end.
You don't like tight ends in rookie drafts? Tight ends like this should be rated higher because of the positional scarcity – we're all looking for a great one. Only Gronk exists as great, but he's always hurt. Jordan Reed is right there for fantasy…but may lose Kirk Cousins. Jimmy Graham is banished to Siberia with Seattle.
3) RB Christian McCaffrey, Stanford (+5 spots)
4/21/17 Update: McCaffrey's draft stock is hot fire right now. People are not convinced with Leonard Fournette and they are falling out of love with Dalvin Cook (as they should) – McCaffrey is gaining all the late-breaking RB NFL Draft love.
So, that means McCaffrey is shifting from a guy we think is a first-round talent but gets drafted second round and we cross our fingers he gets utilized by his draft team…to now a top 10-15 pick and that will have to be justified…thus, used right out of the box.
————————–
Original Commentary: I believe McCaffrey is destined for a team fully intending upon using him as a passing game weapon out of the backfield. He could be a PPR star right away…and I think he is going to Denver to do so. However, I have to hedge my bets at this point — because he also might go to a team with intentions of using him as a passing game weapon but quickly forget that pledge…like most teams do. The NFL is a lot of talk and no action…like politicians. Have you heard the "We have to get ____ the ball more" line, and then blank inexplicably never sees any more attention? We hear it way too often. The NFL/fantasy kiss of death is "We need to get the ball more to ____."
That being said, McCaffrey could be the top PPR back out of the rookie class right away and for that, you have to value him highly…and pray he falls to the right team.
4a) WR Taywan Taylor, W. Kentucky (+1 spot)
4/22/17 Update: I just cannot shake the feeling I have that Taylor is more gifted than anyone in this weaker class of WR prospects — weaker in obvious 'wow' WR prospects.
——————————-
There are too many 'Odell Beckham Jr.' data DNA strands to ignore. He may not be the next OBJ, but he might be damn good…even better in the NFL than in the college.
If he lands on the right team, he'll start right away…and if working with a good-great QB, he'll be a producer quickly. It may take a half of a season or so…but watch out here. Surreal agility/footwork. The potential shock of the dynasty rookie draft.
4b) WR Zay Jones, East Carolina (-1 spot)
I already had my first change of heart three picks in. I started with Fournette-Howard 1-2, but two things have happened since I made those starting picks…
1: I studied Zay Jones deeper and watched more tape. Wow. A stellar talent and likely to be drafted beyond the top 45-50 into a really nice situation.
2: The more I look at it, the more I fear the possible landing spots for O.J. Howard. Where's he going to wind up? What teams possess great offenses/QBs and the need for an instant starting TE? Green Bay and Oakland just took themselves out of the running in free agency. If he doesn't wind up on the Saints…we're about dead here – in terms of instant impact.
I like what OJH brings to the table, but Zay Jones is more likely to 'work' no matter the situation. Tight ends in fantasy are very dependent on the right situation.
4c) WR Corey Davis. W. Michigan
Perhaps, Corey Davis should be #2 on this list…but there's a problem. Davis didn't work out at the NFL Combine and he didn't get timed/participate at Western Michigan's Pro Day either. We don't know if there are any hidden issues with Davis's speed and agility times or abilities. We think we know but now we're relying on eyeballs and perceptions to project Davis to the NFL – and that's dangerous.
On tape, I see signs of a guy that can be the best WR prospect in this draft class. The argument of 'best' can be made but we're flying blind on his measurables at this point. If there's something to worry about in his speed or agility (from a top-ranking perspective) we won't be aware without numbers to work with.
This week, I'm going to do a full study of Davis and we'll do our best to project his measurables from the tape and any data from internal times done at WMU but it's all going to be highly speculative with a larger margin of error.
7) RB D'Onta Foreman, Texas (-3 spots)
4/21/17 Update: Dynasty GMs like him a lot more than the pundits. He has the opposite going on as McCaffrey – no great draft heat, and thus more likely not pressed into becoming a starter right away.
—————————————
3/28/17 update — Pro day results: 4.45 40-time, 7.00 three-cone. Watering the times down for Pro Day bias, it's still pretty nice times for a 230+ running back. 'Bad' surprise is off the table from the Pro Day, so now we're left with one question – the fumbles…broken hand or fumbleitis?
If you think fumbles are an issue…you can't make this pick. If you don't factor in fumbles one bit, eliminate them from your mind…Foreman might be in the argument at 1.01. His 2016 was unreal, go look at the game logs for yourself.
I'll be doing a full study this week, and may raise him or lower him accordingly.
ORIGINAL NOTES — D'Onta Foreman may 'secretly' be the best running back in this class. I may eat those words after his 3/28 Pro Day results are in…but I might be moving him higher on this list as well.
What are we all going to do if Foreman runs a 4.45-4.50 40-time at his 3/28/17 Pro Day sitting at 230-235 pounds? Physically, he'll be in the Leonard Fournette realm of size-athleticism. He was unbelievably productive for Texas last season (2,028 yards and 15 TDs on a bad Texas team…in 11 games).
There are two problems to consider:
1) His six lost fumbles in 2016…but he says that he played with a broken hand no one knew about. If that's true, Foreman is instantly top 3 in this class among the RB prospects (if the fumble issue really isn't an issue)…challenging for the #1 spot. If it isn't telling the truth, we'll all have a problem on our hands, potentially, with a fumbling Foreman.
2) How fast/athletic is he? I'm hearing rumors of 4.50-4.55 at 235 pounds. That's pretty sweet, considering his size. If he's more 4.6+, then we cool down a bit. If he's in the 4.4s this gets really exciting.
Plant Foreman here for now, and we'll change as needed after 3/28/17.
8) TE Bucky Hodges, Virginia Tech (-1 spot)
I can't believe a 6'6.0″/251 tight end prospect who runs a 4.57 40-time and set the all-time record for TE prospects in the broad jump (11'2″) is so 'dull' for football analysts. He's a clone of Jimmy Graham, on paper…only Hodges had a much better, deeper college career on the gridiron.
Hodges is going to fall to a team where he is likely the backup…but maybe the backup to a weak starter – and then Hodges can take him out early or take over for 2018. Hodges' size and college performance deserves much more 'wow' from a fantasy potential standpoint, considering he is at the all too often barren tight end position.
9) RB Samaje Perine, Oklahoma
How many 230+ pound running backs can one person love in one draft season? How many of them are going to run 4.65 40-time or lower this year? 232 pound RB Elijah Hood, UNC reportedly clocked under 4.65 as well…to go with Perine, Fournette, and Foreman (and Mixon two pounds shy of 230 of joining the crew).
Not only are these RBs big and fast but they kicked butt on the field. On one hand, I want to punish Perine in the rankings as a victim of 'too much supply' of these 'big backs', and for being not as good as Fournette and Foreman…but I'm not entirely sure Perine takes a big back seat to either of them. When you consider the Jordan Howard-like aspect to Perine – he might deserve better treatment than the #14 spot. I'm ready to move him up but I fear Perine isn't going to be drafted with an expectation to start…and then we get into a fantasy waiting game.
Remember, John Fox did everything in his power not to promote Jordan Howard for multiple weeks into his rookie season. Once Howard did have his first sign of a breakout, Fox made one more run to try to get Ka'Deem Carey to start. It's so critical for these running backs to have a momentum that forces the coach's hand. Remember, 3rd round pick David Johnson'wasn't ready' per Bruce Arians for about 10 weeks…and it took two RB injuries above him during the same week to get his first real chance. Perine doesn't have a lot of draft momentum right now – not enough to join a team to start. He joins the Steelers or Cardinals in the fourth or fifth round…and we're all screwed. You don't have that worry with Fournette, and Foreman may be about out of those woods as well.
I love Perine as a talent, and I'm not scared of his 4.65 40-time…that works at his size/strength/style. I fear the media and analysts that will push GMs and coaches into ignoring him…and all the sudden stories hit that Perine is adding 10 pounds to become a fullback. You think that's crazy – college coaches wanted to make Latavius Murray and David Johnson H-backs initially.
10) WR/RB Curtis Samuel, Ohio State
Everyone is wild about Christian McCaffrey's ability to catch passes out of the backfield. Why aren't we as excited about Samuel's ability to run the ball while playing a legit wide receiver role?
The guy runs a 4.31 40-time and it elicits a big shoulder shrug from the media. The thought similarly fast Philip Dorsett and Will Fuller were gods, but Samuel runs as fast plus played legit running back in college along with wide receiver…and the media is like, "Yawn…did you see how fast John Ross is?"
More and more I'm falling for Samuel as a great PPR impact WR right away in 2017.
11) RB Kareem Hunt, Toledo (+1 spot)
Until I got a closer look (full report out this week), I didn't realize how truly gifted he was. Not the best running back in this class, but the best at 'playing' running back. No one has better instincts running the ball in this class than Hunt. No one has the balance and the vision. There are more talented physical specimens than Hunt, and that matters in the NFL (and thus for fantasy)…but there are not better instincts. In addition, I did not realize how good his hands were out of the backfield.
This class is offering a lot of unique RB talent, and a lot of 'B' tp 'B+' grade wide receiver talent by comparison. We might have 3-4 running backs in the top 5 rookie draft rankings by the time the NFL draft is over.
12) WR Chris Godwin, Penn State (-1 spot)
The past week I've been studying all the top cornerbacks. Studying guys like Marshon Lattimore, Gareon Conley, and Adoree' Jackson inevitably leads to watching them up against Chris Godwin. My watching Godwin from another angle made me once again exclaim, "Man, that Godwin is a damn good player!" He really is. He's Quincy Enunwa…a pro's pro. A mindset like a tight end but the athleticism of a top receiver. Unfortunately, for Enunwa he's stuck on the cesspool known as the New York Jets. Hopefully, Godwin lands better.
You get Godwin on a team with a great quarterback, and it's 'on' starting Week 1. I'll probably move Godwin up higher pre-draft, but do understand his landing spot is so very critical. He's a savvy receiver…working with Blake Bortles or Jameis Winston is a waste of his time…and yours for fantasy purposes. Zay Jones could thrive in a bad spot more than Godwin could, in my opinion.
13) TE Evan Engram, Ole Miss
I started falling out of love with Engram as an NFL prospect but that made me lose sight of him as one of the better fantasy prospects. After his NFL Combine, I thought he might be in my top 3-5. After I watched a bunch of tape and got a better feel…I started to fade on him (from an NFL standpoint).
Engram is not a 'real' tight end. However, if he lands in a spot where they call him a tight end but line him up more like a wide receiver…then this could be fantasy gold. I don't mean like Jimmy Graham splits out a lot…I mean Engram as basically a pure wide receiver almost; lining up everywhere.
I have a feeling Engram will be a frustration in the NFL because he doesn't do all the things a 'real' tight end needs to do…but if used strictly as a receiver threat, while classified as a TE — it could be fantasy goodness. The possibility of that is worth a push in our rankings.
14) QB Mitchell Trubisky, UNC
I started this #10 spot with Deshaun Watson here…ahead of Trubisky. I was being too slick. I'm so already flinching that the NFL is going to do what it usually does – pushes media accepted Watson, buries Trubisky a la what most newspapers/TV stations do to the politicians they don't like (either side of the isle)…that I'm psyching myself out. I love Trubisky as a prospect. I think there's a lot of Andrew Luck here if scouts, analysts, and coaches get their head out of the media's ass and see it, develop it.
From the same people who buried Jimmy Garoppolo years ago, now comes Trubisky-deniers…because he doesn't fit their mold for some reason.
I have to set all that negativity aside because I'd rather chase talent and complain about their situation for 2-3 years than try to time Deshaun Watson's moment of trade-away 'high' value. We play to WIN the game…
15) DE Myles Garrett, Texas A&M
4/15/17 update: Watching against Alabama's Cam Robinson was a re-eyeopening experience. Garrett is a legit prospect but he is not all-world. He was destroyed by Cam Robinson, easily. Too easily.
——————-
Original Comments: If you knew for sure that Garrett would be classified as a DE/DL…then I'd move him up between spots #2-4 overall on this list. You have to figure 10+ sacks and 10+ TFLs potential right off the bat. Emmanuel Ogbah may be a huge IDP winner in this equation…if Garrett goes to the Browns.
The fear that a team could classify him as an OLB would be 'not good' for his IDP status among LBs. Garrett may get 10.0 sacks and have about 20 tackles total as a rookie…not sure he's a 'do it all' DE. He'll be tasked to rush the backfield every play.
16) WR Cooper Kupp, E. Washington
We could look back in a few years and realize Kupp WAS the best WR prospect from this draft. His productivity and his tape are fantastic. His 40-time is so-so… and people are more focused on that than his sensational agility times. The likelihood to get pigeonholed in the NFL drives Kupp here right now. He might go +/- 5-8 spots depending upon his landing place post-draft.
Kupp is not going to get much love but a pat on the head from most of the mainstream. Some analytics people will scoff at him. It's going to create a great value window for those of you with a #12-25 pick in your dynasty rookie drafts ahead…hopefully.
17) QB Deshaun Watson, Clemson
Watson is not my guy for the NFL. I don't think he's a great passer for the next level and he didn't clock all that fast in his 40-time. I like Mitchell Trubisky much better, as you should know raising your eyes up a few sentences. So why Watson here…and just behind Trubisky? Three reasons…
— The media push ensures Watson is going to a team to start in short order. He's taken to be 'the guy' by some team. He'll get his shot, and whatever happens, the media will prop him up. He'll get many shots at this.
— If Jameis Winston, Blake Bortles, and Carson Wentz can have blips of success in the NFL…then Watson can. It's not that Watson is a bust, I just don't believe he is a franchise QB…and not worth the top 10 pick he will become. However, instant passing success in the pros by rookie QBs is a reality the past 2-3 years. Everyone looks great for a bit…or longer. So, Watson can hang in/produce early on – and then you can sell him off.
— Watson is not a great runner but he can run…and he will run. That's a good thing for fantasy.
Watson has fantasy value as a chip to sell or maybe he hangs in there producing for fantasy for a season because he runs a bunch (because he gets confused easily as a passer early on). Like a new age Jake Locker…or exactly how Jameis Winstonhad FF-value his rookie year.
18) WR John Ross, Washington
At some point, you have to take the 4.22 runner…especially considering that he will be drafted to start/impact not sit on the sidelines. There are other WRs (and RBs/TEs) I like better here, but I understand the advantage that Ross has coming into the league. If Ross lands right, he could really have a hot start out of the gates – like speedster Will Fuller did last season.
4.22 is hard to ignore. If it's real…
19) RB Jeremy McNichols, Boise State)
There might be a lot more rookie draft buzz here if Christian McCaffrey had not stolen the RB-PPR-god mantle. McNichols is a very talented receiver out of the backfield and a nifty runner, an underrated runner. He could land better than McCaffrey and be a bit of a shock PPR producer right away.
20) DE/LB Jordan Willis, Kansas State
All signs point to a Vic Beasley 2.0. Classified as a DE…that would be AWESOME for IDP. However, he has 50-50 odds to wind up classified as a 3-4 OLB rushing off the edge…and if among the LB group for IDP – it stings his fantasy value hard (in most scoring systems). He may be better than Myles Garrett in the long run.
21) TE David Njoku, Miami, Fla.
I'm a bit leery of Njoku, but I'm warming up to him. I also know everyone loves him…including NFL teams. So, you have a very athletic, suspect (to me) receiving talent tight end who will be taken in the first round with expectations to play right away. You're going to get some numbers quickly…a tradable asset potentially.
If Njoku's hands are better than I believe…then he could become the best tight end of this class.
Considering the upside and the fantasy economy of the position, Njoku makes sense…maybe higher than I have him here.
22) SS Jabrill Peppers, Michigan
If you consider Obi Melifonwu as a likely move to cornerback, then Peppers is likely the best tackle accumulator among the top safety prospects…plus, you have added bonus of him in the return game and possible offensive action out of the backfield.
23) DB Obi Melifonwu, UConn
I might have Obi higher here, but I fear he's going to be turned into a cornerback. Although, I feared that about other CFM love child's Byron Jones and Sean Davis…and there developing into some of the best safeties in the league. There is a chance Melifonwu stays at safety. Even as a corner, he's so tall that he might have 20+ PDs in a rookie campaign if jammed out there Day 1.
Whatever ends up with Obi – he's a freak. One of the 5-10 best prospects in the NFL Draft hands down. Top 5 among dynasty IDP prospects as well…with an argument for the #1 spot.
24) TE Michael Roberts, Toledo
I'm a little nervous pushing Michael Roberts this high.
There are fantasy obstacles – he won't be drafted highly and his 40-time is on the slow side. On the positive side – he looks faster on tape, for whatever that is worth…and, oh yeah…he looks like the most dominating tight end prospect in this class, at times.
All I see is Antonio Gates every time I watching play. He has a physical gift most don't…people can work out/train all day, but some people are just 'country strong'. Roberts is a bully and doesn't fully know it. He's just strong-like-bull with a nice spring in his step for getting open on passing plays, really nice action after the catch, and chasing a blocker. I love his game.
Tight end prospects get a little extra value here because of their scarcity. Roberts is my favorite not-O.J. Howard or Bucky Hodges TE prospect in this class. He could wind up having a much better NFL career than anyone has projected.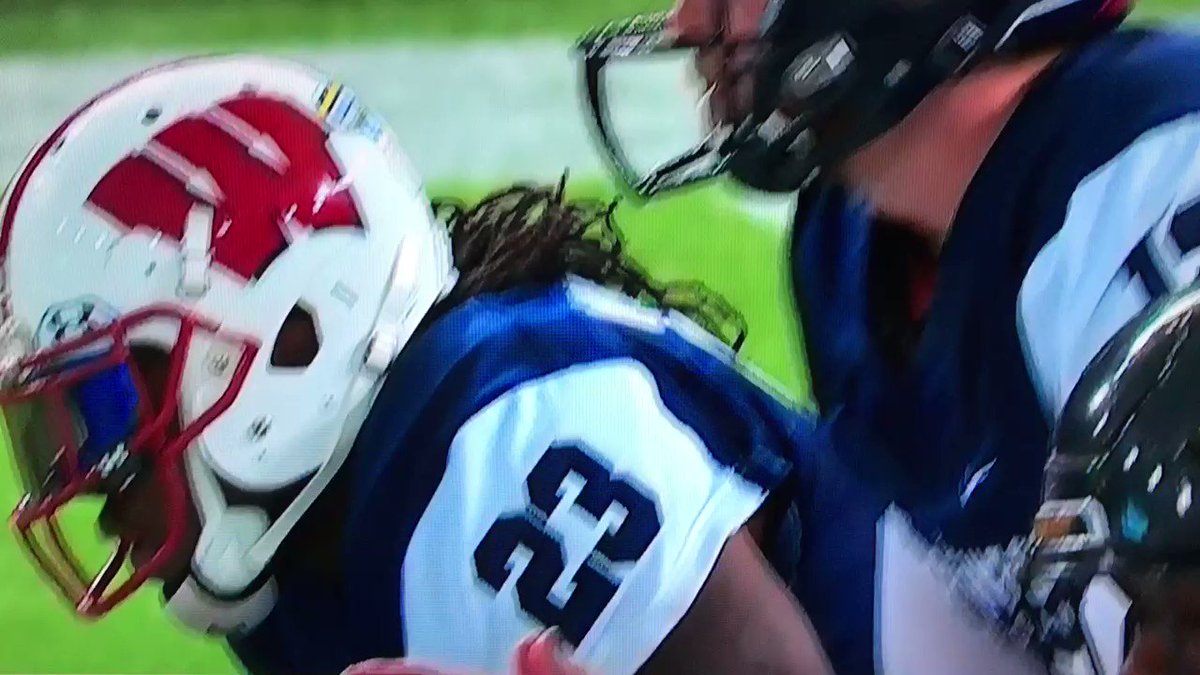 R.C. Fischer@FFMetrics
Toledo's Michael Roberts was fantastic in the E-W Shrine today when he got the ball This 3rd & long was amazing. *http://CollegeFootballMetrics.com *
10:12 PM - Jan 21, 2017 Replies 11 Retweet 33 likesTwitter Ads info and privacy
25) QB Davis Webb, Cal
The second-best QB in this draft. He has a chance to go untaken in the first-round and then get snatched up in the early second-round by whatever team didn't get their Mitchell Trubisky desires fulfilled. He might be the 49ers, Jags, or Jets pick in the early second-round…all nice opportunities to play quickly.
He might be more 'ready to go' than Trubisky, in 2017.
#26) WR Garry Brown, Cal (PA)
We ranked destined for UDFA status Robby Anderson and Tyrell Williams highly in their draft years as well…and it raised an eyebrow or two. Garry Brown is a very talented WR prospect who tore up the D2 level. He's a pro WR…a technician with great hands and can play with physicality. He's going to go undrafted, be a darling of rookie camp, and work his way up that ladder…if he's snagged by the right team. Or he'll get buried for a year or two before being 'discovered' by his own team. *See too: Cameron Meredith and Tyrell Williams' career path.
27) WR Josh Reynolds, Texas A&M
One of the stars of Senior Bowl week and game. He'll be drafted mid-draft, and if he falls right this could work right away for fantasy. 6'3″ and plays like a receiver who uses his height and reach to his advantage. A 6.83 three-cone, 37.0″ vertical with a 4.52 40-time. There's a lot to like here, plus he has very good hands and concentration going over the top/deep with defenders. He's going to be a #2 or #3 wide receiver right off the bat if he lands right in the draft.
#28) RB Joel Bouagnon, No. Illinois
You must read the scouting report on this one. Not a sure thing, but there is evidence of a very good+ NFL running back here…we think he's a lot better than anyone else is scouting him right now.
Bouagnon is definitely going undrafted, 99% sure of that, but that matters little in the NFL…running backs are not as biased against undrafted like quarterbacks and cornerbacks are.
#29) CB Adoree Jackson, USC
Should be brought in to start right away, so he'll get thrown on early – and he's short, so QBs will try to take advantage. Jackson could hit 15+ PDs as a rookie, and he'll be expected to work the return game right away – and he might see time on offense. He may be the Jabrill Peppers people are looking for in IDP/fantasy.
#30) LB Haason Reddick, Temple
In a weaker class of linebackers, Reddick is the one that stands out the most. It's hard projecting him at inside linebacker because he's never played there, but he could be a nice inside guy…or a sweet outside linebacker. Reddick can tackle and rush the passer. He could win up the best IDP of 2017.
============================
Guys I'm not taking…
RB Dalvin Cook, Florida State
You should sue anyone who tries to sell you Dalvin Cook as the top RB in this draft. I see him being taken 1.01 in some mock drafts. He's not in my top 25+….so, there's no reason to even rank him in this draft because he'll be long gone before I even think about it. He's not even worth drafting to try to trade on heated value. He's a mediocre talent, smaller RB with off-field questions…and he's likely to fall into the second-round and lose 'instant starter' status. No thank you.
WR Mike Williams, Clemson
I'm not vehemently against Mike Williams, I'm just not spending anywhere near what it will take to get him in the DRD. He's not in my top 20 overall, so why bother ranking him…he's going top 3-7 now and will after the NFL Draft as well.
RB Joe Mixon, Oklahoma
I get he has the talent of a first-round pick, but not like a 1.01-1.03 type talent…just top 12 worthy. However, he doesn't have a top 12 'head', and it's not just because of the one incident. I believe Mixon is trouble waiting to happen. I'd rather trade his projection than draft him and deal with a downside reality. If I'm wrong, I'm wrong. If he was a choir boy, he'd be after Fournette, Foreman, and McCaffrey…battling for space with Perine.
WR JuJu Smith-Schuster, USC
I'm not anti-JSS, there's just a ton of WR prospects I like more in the top 20. I don't see myself taking Smith-Schuster until the 30s, so I'll just take him off the board and not really worry about it.
RB Alvin Kamara, Tennessee
I see nothing special in Kamara at all. His measurables are so-so. His size is 'tweener'. His college output is a yawn. His tape shows a guy who doesn't work great between the tackles and is not agile enough to beat NFL defenders around the edge. Wildly overrated.
QB DeShone Kizer, Notre Dame
I'm not interested in a guy who leads the Fighting Irish to a losing/terrible record and is benched (briefly) at one point in his final season. 'Throws hard' is not enough for me to get excited.